Trustees' 2010 Annual Report


In 2010, Turkish Cultural Foundation allocated a total of $ 2,182,296 in grants and direct disbursements to pursue its mission.

Turkish Cultural Foundation operates from Boston, MA, Washington, DC, Detroit, MI, Istanbul, Turkey and a newly opened Sonoma, CA office with a team of professionals, interns and volunteers, who implement the mission and undertake the growing international work of Turkish Cultural Foundation.

In 2010, TCF funds were distributed as follows: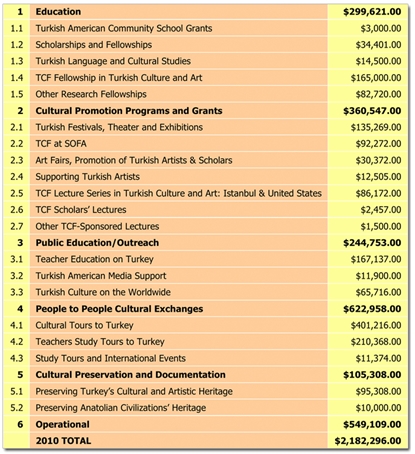 The following chart provides an overview on how TCF funds were allocated in 2010. For a full listing of all Foundation grants please visit the TCF website.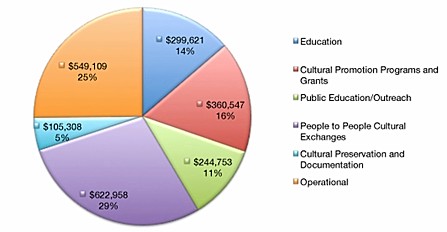 1. EDUCATION
Turkish American Community Schools

Turkish Cultural Foundation is committed to support education in Turkish language and heritage for Turkish American children. In 2005, TCF established a Grant to support local Turkish American organizations who want to establish a community school. Since 2005, TCF has supported the establishment or expansion of 22 Turkish American community schools nationwide.

In 2010, a grant was provided to the Turkish Women's League of America to support the expansion of the Ataturk School in New York, one of the oldest Turkish American community schools in the country.

A second grant was provided to the Turkish American Association of North Texas in Dallas. Turkish American community schools received additional support by TCF in the form of free Turkish and bilingual classroom resources. Among the publications offered by TCF, Anatolia Before You (Senden Once Anadolu), published by the Museum of Anatolian Civilizations in Ankara with support by TCF, and a bilingual series titled Musical Tales of the World, by Sebnem Oral, were gifted to 11 Turkish American community schools.


Scholarships and Fellowships

Scholarships and fellowships to support study, research and publications about Turkish culture were provided to a number of Turkish and American non-governmental organizations, including the Glass Furnace Foundation in Istanbul.

The Turkish Cultural Foundation grant allowed the Glass Furnace Foundation to offer a one-year paid apprenticeship for a young glass artist and supported the participation of seven Turkish students in the international summer glass workshops of the Foundation.



As part of the Foundation's mission to preserve and enhance Turkish art forms, the Foundation has continued providing a major grant to glass artist Gulin Algul in support of her ongoing work to improve the application of marbling – ebru, traditionally used on paper, to glass.

A TCF grant supported the ILKYAR (Foundation for Elementary Schools) YIBO (Regional Elementary Level Boarding Schools) Support Project which establishes libraries and donates educational resources, art and sports equipment, as well as toys to these public boarding schools.


"Glass has long been used as a medium in Turkish art, and it is the goal of the Glass Furnace Foundation to allow students from around the world to learn various glass art techniques with experienced masters and produce new works. I would like to thank the Turkish Cultural Foundation for allowing me to study at the Glass Furnace Foundation on a scholarship; and for all the opportunities it has provided for students interested in glass to put their theory they have learned in university into practice, learn new techniques and develop their skill in this art. It is our hope that providing such an opportunity to students like us will one day allow us to repay you as glass artists, and perhaps one day to contribute to the further development of glass art ourselves."
Elif Gunduz, Scholarship Recipient at Glass Furnace Foundation

"The TCF scholarships, and of course the artists from whom we received training, helped us to set an artistic direction and style. As the first two students sent under your scholarship to the Glass Furnace Foundation, we believe that we have become increasingly successful since that experience. The support you provided us has allowed us to solve problems and difficulties in more effective ways, which is every bit as important for our future students as it is for us; the benefit this has brought to glass art in Turkey is immeasurable. We hope that as Turkish glass artists, we will have further opportunities to display our country, our culture and our art in other countries. We offer our infinite thanks and hope you will continue to offer this support."
Barbaros Giray & Sertac Alpaslan, Scholarship Recipients at Glass Furnace Foundation



Turkish Language and Cultural Studies

In support of university-level Turkish language instruction in the United States, TCF grants to Leland Stanford Junior College and to Vassar College. The multi-year grant to Stanford University will support the establishment of a full-time lecturer position in Turkish Language and Literature as part of the University's Mediterranean Studies Forum. The TCF Grant to Vassar College will add Turkish to the College's Self-Instructional Language Program in 2010-2011. It will also support teaching, research and public education activities with a view to grow interest in the on-and-off campus study of Turkish language, history and culture.

The Turkish Cultural Foundation also awarded a multi-year grant to the Ottoman Studies Foundation to support the Intensive Ottoman and Turkish Summer School of Harvard University's Department of Near Eastern Languages and Civilizations, located on Cunda in Ayvalik, Turkey. In 2010, TCF funding provided scholarships for four international students and helped underwrite lectures given by renowned scholars on Turkish and Ottoman history and language at the School.

TCF Fellowship in Turkish Culture and Art

In its third year, the Turkish Cultural Foundation Fellowship in Culture and Art was awarded to 15 scholars. The program aims to provide support to students, researchers and scholars who conduct research and publish on the art and culture of Turkey, with a special emphasis on studies related to the preservation of Turkey's artistic and cultural heritage. The mission of the Turkish Cultural Foundation Fellowship Program is to recognize and assist scholars whose academic achievements and research reflect the commitment of Turkish Cultural Foundation to disseminating knowledge about Turkey's cultural heritage. Since the Fellowship program was established in 2008, a total of 16 post-doctorate and 22 Ph.D. dissertation fellowships have been awarded.



"I am truly honored to be one of the recipients of the TCF Fellowship. Since the beginning of my higher research career, I have been devoted to investigate aspects of modern Turkish culture, which constitutes a rich source for academics from all over the world. The TCF fellowships provide an invaluable support for early career academics including myself, and encourage scholarly research in the areas of Turkish arts and culture."
Can T. Yalcinkaya, Ph.D. Candidate, Media, Music and Cultural Studies, Macquarie U., Australia

"The Turkish Cultural Foundation Dissertation Research Fellowship greatly facilitated my doctoral dissertation research and study. It provided me with adequate financial resources in order to travel and visit historical sites as well as conduct archival research, both of which were essential to the completion of my dissertation."
Dimitrios Loupis, Ph.D. Candidate, Ottoman History, Center for Middle Eastern Studies & Department of History, Harvard U., USA

"I hope that thanks to the generous support of the Turkish Cultural Foundation my dissertation will challenge the dry, yet oft-quoted perception in the field of the Ottoman state as a bureaucratic "machinery". Unearthing the intellectual reference points that were available for and in circulation among the Ottoman scribal classes will complement other studies in the field on the historical development of Ottoman political thought."
Ekin Emine Tusalp, Ph.D. Candidate, Middle Eastern Studies, Harvard U., USA

"The Turkish Cultural Foundation Fellowship allowed me to pursue my research on Syrian Orthodox churches, which are among Turkey's most vulnerable heritage sites. By facilitating my studies at Oxford, the TCF Fellowship enabled me to access relevant resources and helped improve me as a researcher and scholar."
Elif Keser Kayaalp, Ph.D, Senior Fellow, Research Center for Anatolian Civilizations, Koc U., Turkey

"Deprived of support and seeing the deadline near, I felt resourceless and so consumed. Turkish Cultural Foundation (TCF) turned the tide putting me back on track. For me, TCF fellowship became a source of thrilling support and of inspiration, commitment perhaps, to stand up, refocus, and do what I have got to do."
Emrah Sahin, PhD Candidate, McGill U., Canada

"The support of Turkish Cultural Foundation means a lot more than financial assistance for me. It is above all the recognition of the mostly neglected area of interdisciplinary research that I am working in, namely "music archaeology". This acknowledgement by such an esteemed institution encourages me to carry my work further on music archaeology of Turkey. It also gives me hope for other interdisciplinary research fields, which, not having institutionalized in today's academic system, are not usually supported as much as conventional fields, although they offer much for a better understanding of Turkish culture and history".
Zeynep Helvaci, Ph.D. Candidate, Musicology, Wurzburg, Institute for Music Research, Julius-Maximilians U., Germany



Other Research Fellowships

Turkish Cultural Foundation continued to support research and education on Turkish art and culture carried out in a multi-year research project by its Senior Scholar in Residence, Dr. Nurhan Atasoy. Under the patronage of the Turkish Cultural Foundation, Dr. Atasoy has continued in 2010 to conduct research toward the publication of her upcoming book on traces of Turkish culture in Europe.

In the first of a two-year commitment, TCF has awarded two scholarships to Turkish graduate students who are enrolled in a Ph.D. program and are preparing dissertations on Greek studies or to postgraduate students studying Greek Ottoman history. These scholarships are designed to provide support to Turkish graduate students enrolled in the Ottoman Studies Program at the National Hellenic Research Foundation. Related to this area of studies, TCF also provided a fellowship to Dr. Evangelia Balta, Director of the National Hellenic Research Foundation, to carry out a research project on the Ottoman Archival material on Karamanlidika printing which will be used to update, republish and enhance the Karamanlica Bibliography.


2. CULTURAL PROMOTION
Turkish Festivals, Theater and Exhibitions
Turkish Cultural Foundation continued to provide major grants in support of events promoting Turkish culture and art in the United States. The Foundation underwrote leading Turkish cultural festivals in the United States in 2010, namely in
Boston, Charlotte, Chicago, Dallas, Ft. Lauderdale, Houston, Indianapolis, Monterey, New York, Philadelphia, Rochester and Washington DC
, organized by the respective Turkish American organizations in these cities.

TCF also sponsored the
1st Children's Friendship Festival
by the
Turkish Cultural Association of Washington
, featuring performances by Turkish American children's groups, as well as groups representing other Seattle ethnic communities on the occasion of April 23rd International Children's Day.
Supported by a grant from Turkish Cultural Foundation, the
American Turkish Association of North Carolina
organized its
2nd Nazim Hikmet Poetry Festival
. The festival featured an International Poetry Competition, which received over 500 poem submissions from 175 poets from North Carolina to Malta.
TCF provided a major grant to
House of Turkey
, a non-profit organization, which brings Turkish culture to the famed Balboa Park, the largest urban cultural park in the United States, located in San Diego, California. The organization represents Turkey among 32 other countries which have given permission to do cultural public programming at Balboa Park. With TCF funding House of Turkey has organized a public festival as part of the Park's
Lawn Program
and a series of other cultural events to highlight Turkish culture, cuisine and art to visitors of the Park, including a celebration on Turkey at the San Diego Museum of Man and representing Turkish cuisine at the Ethnic Food Fair in Spring 2011.
Promoting Turkish cinema in the United States remained on the cultural agenda of Turkish Cultural Foundation in 2010. The Foundation was the main sponsor of the
9th Boston Turkish Film & Music Festival
, organized by the Turkish American Cultural Society of New England and the
12th New York Turkish Film Festival
, organized by
Moon and Stars Project
. The TCF grant to Moon and Stars Project, like those in past years, supported not only the New York Turkish Film Festival, but the expansion of this program to other cities, leading to the organization of the
4th Milwaukee Turkish Film Festival, 6th Madison Turkish Film Festival, the Contemporary Turkish Cinema Festival at Cornell and Seattle TurkFest
.
TCF also sponsored the
Spotlight on Turkish Cinema
by the
Tiburon International Film Festival
in California, where many critically acclaimed Turkish films that were screened.
A film screening of
Desperate Hours
, a documentary on the role of Turkish diplomats saving Jews during the
Holocaust, at the Congregation Kehilath Jeshurun
in New York also received TCF funding.

Turkish Theater, both in Turkish and translated into English, flourished in 2010 with TCF underwriting. With major funding by TCF, the
Turkish American Art Society of New York
staged two plays;
Ali Baba and the 40 Thieves (Ali Baba ve Kirk Haramiler)
, to Turkish American children in New York, Philadelphia and Washington, DC and
Kesanli Ali Destani (The Legend of Ali of Kesan)
, a famed Turkish play, in New York featuring renowned Turkish actors as well as a cast of dozens of amateur actors. The
University of Maine
received a grant from Turkish Cultural Foundation to stage
Ambling Riders (Rahvan Giden Atlilar)
a play by leading Turkish playwright
Ozen Yula
, translated into English and directed by
Irem Secil Reel
, a Turkish-American graduate student at the University of Maine, and staged to coincide with
Turkish Day
on campus and a lecture by the playwright on campus.
Through TCF's support, audiences in America were treated to contemporary music performances by Turkey's leading pop music stars. Through
Turk of America Magazine
, TCF became the lead sponsor of a US tour for
Sezen Aksu
, renowned Turkish pop Diva, songwriter and producer. Joined by
Fahir Atakoglu
, an acclaimed Turkish American composer and pianist, Sezen Aksu gave concerts at the
Carnegie Hall
in New York, the
Music Center at Strathmore
in Maryland and the New Jersey Performing Arts Center to over 8,000 fans. She was also featured in an interview on
National Public Radio
and her trip was widely covered by the Turkish media.
TCF also became a sponsor of
Istanbulive II
, a celebration of modern Turkish music was organized by
Serdar Ilhan, Inc
. as part of Summer Stage, a free celebration of art and culture at New York's famed
Central Park
. The event was dedicated to the life and work of Arif Mardin, a Turkish American multi-Grammy Award winning producer, songwriter, and musician. Istanbulive II featured famous Turkish contemporary music and dance performances, including concerts by
Kenan Dogulu
and
Duman
. The event received wide coverage in the US media, including the
New Yorker, Village Voice, Time Out New York, Channel Thirteen
and became the "Editor's Pick" in the
Daily News
.

The Turkish Cultural Foundation became a sponsor of the opening of the new
Gallery of Islamic Art at the Detroit Institute of Arts
. The new gallery displays works of art from the Mediterranean region, the Middle East, Central Asia and India, and spans the 7th–early 20th centuries. The opening was celebrated with a black-tie event, "An Evening on the Silk Road." TCF's Detroit office Director
Nurten Ural
hosted distinguished guests at the opening, including Congressman John Conyers and Congressman Gary Peters and Mrs. Peters.
Supporting Turkish Artists
To further our goal of showcasing Turkish art and artists for international audiences, TCF provided funding for Turkish artists to perform, take up residencies and participate in international art and cultural events.
In 2010,
Dr. Sezen Ozeke
of Uludag University, Bursa and
Ruhi Ozeke
, musician and oud player, received a TCF grant to teach Turkish classical music and dance to undergraduate music students at Northern Illinois University and to perform at the
Spring World Music Concert
in DeKalb. TCF's support of the
San Francisco International Flute Festival
brought renowned Turkish Flutist
Bulent Evcil
, to perform at the Festival and teach a masters class.
In February of 2010, TCF sponsored art residencies for Turkish Calligraphy and Ebru artists
Murat Cabuk
and
Burcu Kinay
at
Holter Museum of Art
in Helena, Montana to give workshops in conjunction with the Museum's exhibition on Turkish rugs entitled Magic Carpets. A TCF grant was awarded to the
Philadelphia Museum of Art
to support the presentation of works by two contemporary Turkish artists,
Inci Eviner
and
Gulsun Karamustafa
, at the Museum's exhibition, "Live Cinema/In the Round: Contemporary Art from the East Mediterranean".
TCF at SOFA
For the fourth year, Turkish Cultural Foundation participated in the
Sculpture Objects and Functional Art Exposition – SOFA
in New York and Chicago by sponsoring a booth for established and aspiring Turkish modern artists to present their work to international audiences. The Turkish Cultural Foundation booth at SOFA Chicago featured Turkish artists
Yasemin Aslan Bakiri, Gamze Araz Eskinazi, Yasemin Sayinsoy, Yucel Kale
and
Seckin Pirim
, while SOFA New York introduced Turkish artists
Malik Bulut , Emel Vardar, Ilker Yardimci and Yilmaz Zenger
to sophisticated audiences. At SOFA Chicago,
Gamze Araz Eskinazi and Yasemin Aslan Bakiri
also gave presentations on Turkish glass art.

"The unparalleled creativity evident in the exhibited works and the unlimited use of all manner of materials makes the SOFA fairs exceptional for visitors and artists alike. In particular, at SOFA Chicago we had the opportunity to view some of the finest examples of glass art. The intellectual level and intense interest in the fair on the part of viewers was extremely evident; I saw them taking close interest in almost every work on display. The organization of both fairs I attended was flawless; the Sofa Art Fairs are exciting and prestigious fairs, both in terms of the quality of the viewers and the unique place they hold in the art world. The Turkish Cultural Foundation booths at SOFA New York and Chicago fairs, both of which I attended under the auspices of TCF, received great interest. Most important was that fact that these fairs gave Turkish artists the opportunity to communicate with the world and view art from around the world at close hand. I believe that these events of the Turkish Cultural Foundation constitute a major contribution toward promoting Turkey worldwide."
Emel Vardar, SOFA 2010 Participating Artist

"Many galleries and artists in Turkey make great efforts to participate in international fairs and exhibitions. Although works by Turkish artists draw considerable interest, penetrating into the international arp market has not been easy for them, due to lack of funding and other support. This being the case, the Turkish Cultural Foundation's support to Turkish artists to exhibit their work abroad and to provide this opportunity with no financial obligations to or expectations from the artist has been exceptional. Especially in cities such as New York and Chicago where 70% of the world's art is created, participating in an art event is a source of great joy for any artist. Several artists have benefitted from this opportunity created by the Turkish Cultural Foundation, exhibiting their works in New York and Chicago, selling pieces to various collections, and networking with many exhibitioners and galleries. Many thanks to the Foundation for taking on this mission."
Seckin Pirim, SOFA 2010 Participating Artist

"We would like to thank TCF for choosing us to represent Turkey at the SOFA CHICAGO art fair. It was wonderful to find ourselves side-by-side with a host of famous artists, whose work we had long admired, at a wonderful event such as SOFA, and to gain the experience of proudly exhibiting our works. We were approached by so many visitors to our booth with loving, admiring words about the beauties of Turkey and answered their questions. We had the opportunity to sell our works and make new friends, but the best part was the experience itself. We gained new friends from among Turkish Cultural Foundation staff and volunteers, who looked out for us as if we were part of their family. Though it didn't last long, we experienced the joy and privilege of being a part of this wonderful Foundation, and hope to do all we can in the future to help you in your mission and continue to be a part of your family. We thank you and your wonderful organization once more for all you have done."
Yasemin Sayinsoy and Gamze Araz Eskinazi, SOFA 2010 Participating Artists

TCF Lecture Series in Turkish Culture and Art - United States
The U.S. leg of the
TCF Lecture Series in Turkish Culture and Art
featured prominent speakers in 2010 and were attended by nearly 1,000 people.
The Series featured
Serif Yenen
, a prominent Turkish tour guide, travel specialist and lecturer, who gave four lectures on the Topkapi Palace and Turkey as a travel destination. The programs were organized in conjunction with the
American Turkish Society in New York
, the
University of Pennsylvania Museum
in Philadelphia, the
Smithsonian Institution
in Washington, DC and
Boston University
.
The second TCF Lecture Series of the year featured
Mesut Ilgim
, a respected Turkish intellectual and researcher, who spoke on the young Turkish Republic's policy to invite exiled Jewish German professors to Turkey and their role in establishing leading Turkish universities and the 1933 Turkish University Reform.

TCF collaborated with several Turkish American and Jewish organizations in these series of lectures that took place in Ann Arbor at the
University of Michigan
; Lansing at
Michigan State University
; New York with the
American Turkish Society
and the
Congregation Kehilath Jeshurun
and in Chicago with the
Turkish American Cultural Alliance at Northwestern University
.
TCF Lecture Series in Turkish Culture and Art - Istanbul
The TCF Istanbul Lecture Series aims to introduce the rich cultural and artistic heritage of Turkey to members of the consular corps, foreign university faculty and the expatriate community at large residing in Istanbul. In 2010, the TCF Istanbul office hosted
16 Turkish Art and Culture Lectures
(11 in English and five in Turkish) and three lunch seminars by renowned experts and scholars under the guidance of
Dr. Nurhan Atasoy
. The lectures covered a wide array of topics ranging from Turkish coffee culture to life in Istanbul in 1582, from dervish belts to research on the Karamanlis. A total of 480 people attended the lectures at the TCF Istanbul office and 6741 viewers from 83 countries viewed their recorded videos on the Turkish Cultural Foundation portal.
The 2010 TCF Istanbul Lecture Series in Turkish Culture and Art featured the following distinguished speakers:
JANUARY 2010

5th: Prof. Dr. Cemal Kafadar, Harvard University Department of History
Turkish Coffeehouse Culture - English

18th: Prof. Dr. Gul Irepoglu, Author, Art Historian, Board Member, UNESCO National Commission
Ottoman Jewelry - English

FEBRUARY 2010

3rd: Dr. Naci Bakirci, Vice Director of the Konya Museum
Establishment of Konya Museum - Turkish

4th: Prof. Dr. Norman Stone, Bilkent University Department of International Relations
Turkey and Germany in the Thirties - English

16th: Prof. Dr. Nurhan Atasoy, Turkish Cultural Foundation, Senior Resident Scholar
Life in Istanbul in 1582 - English

MARCH 2010

3rd: Prof. Dr. Nurhan Atasoy, Turkish Cultural Foundation, Senior Resident Scholar
Tulip - English

3rd: Prof. Dr. Haluk Abbasoglu, Istanbul University Department of Classical Archeology
Drinking Culture in Antiquity - Turkish

4th: Dr. Paolo Girardelli, Bogazici University Department of History
Mediterranean Encounters: Italian Architecture in Istanbul - English

APRIL 2010

1st: Ms. Aysel Cotelioglu, Assistant Manager of the Topkapi Palace Museum
Painting Collection at Topkapi Palace - Turkish

2nd: Dr. Miyuki Aoki Girardelli, Bogazici University Department of History
On Horseback Across Eurasia: Ottoman Architectural Environment through the Eyes of Japanese Architect Ito Chûta (1867-1954) - English
Special Lecture on the Occasion of Japan Year 2010 in Turkey

MAY 2010

5th: Prof. Dr. Nurhan Atasoy, Turkish Cultural Foundation, Senior Resident Scholar
Dolmabahce Palace and the Ottoman Traditional Lifestyle - English

26th: Prof. Dr. Minako Mizuno Yamanlar, Ryûkoku University
Ottoman Arts and Japanese Arts: Some Aesthetic Similarities - English
Special Lecture on the Occasion of Japan Year 2010 in Turkey

OCTOBER 2010

11th: Prof. Dr. Recep Karadag, Marmara University, Consultant to TCF
TCF Natural Dyes Research and Development Laboratory: The World's Largest Dye Plants Collection - Turkish

12th: Prof. Dr. Recep Karadag, Marmara University, Consultant to TCF
TCF Natural Dyes Research and Development Laboratory: The World's Largest Dye Plants Collection - English

NOVEMBER 2010

9th: Dr. Evangelia Balta, National Hellenic Research Foundation
Beyond the Language Frontier: Studies on the Karamanlis and the Karamanlidika Printing - English

10th: Prof. Dr. Serife Atlihan, Marmara University, Faculty of Fine Arts
Dervish Belts – Turkish

TCF Scholars' Lectures
TCF Resident Scholars continued to share their knowledge and research with Turkish, American and international audiences. TCF Senior Scholar in Residence,
Dr. Nurhan Atasoy
spoke at the
World Tulip Summit
in Mount Vernon, Washington on "Tulip, Ottoman Turkey and Europe". She also delivered a keynote address at the
Turkish and Ottoman Studies Graduate Student Conference at the University of Washington
, along with a presentation at the
American Turkish Society
in New York on "Turkish Tulip and the Ottoman Gardens". Dr. Atasoy has also overseen the TCF Lecture Series at the TCF Istanbul office and has lectured visiting international delegations there on topics ranging from Ottoman gardens to Turkish tents.
In 2010,
Dr. Sumiyo Okumura
, TCF Resident Art Historian, spoke at the
International Symposium of Turkish Carpets and Flat Weavings
, at
Akdeniz University
in Alanya, Turkey. She also gave a presentation at the
International Conference on Islamic Civilization in the Mediterranean
at the
Near East University
in the Turkish Republic of Northern Cyprus.
Dr. Recep Karadag
, who heads the
TCF Natural Dyes Research and Development Laboratory – DATU
attended the
29th Dyes in History and Archaeology Conference
in Lisbon. He also presented papers related to natural dyes at the
23rd Biennial IIC Congress
in Istanbul;
1st
International Congress on Chemistry for Cultural Heritage
in Ravenna (Italy) and
4th Intensive School on Conservation Science in Aragon
, Spain.
Other TCF-Sponsored Lectures
TCF sponsored the second
Ataturk Conference
organized by the
Istanbul University Alumni Association US
at the United Nations. The conference featured
Dr. Heath Lowry
of Princeton University,
Dr. Robert Finn
of Princeton University, former US Ambassador to Afghanistan, and
Dr. Arnold Reisman
of the American Association for the Advancement of Science and was moderated by
Dr. Umut Uzer
of Utah University.
3. PUBLIC EDUCATION/OUTREACH
Turkish Cultural Foundation continued its activities in the area of public education and supported similar efforts by like-minded organizations.

TCF-World Affairs Councils of America Program

TCF continued to sponsor and co-organize a widely acclaimed educational program on Turkey in cooperation with the World Affairs Councils of America (WACA).

In 2010, this nation-wide program was undertaken by TCF and WACA with 19 local World Affairs Councils and the Birmingham International Center.

In its fourth year, this TCF-WACA collaboration created a nationwide educational outreach program on Turkey, focusing on teacher education, teacher study tours to Turkey and public programs for the general public.

As part of this program, TCF sponsored and helped organize 20 Teacher Workshops on Turkey through the World Affairs Councils of America's local affiliates in Dallas/Forth Worth (Texas), Detroit (Michigan), Mid-Hudson Valley (New York), Missoula (Montana), Kansas City and St. Louis (Missouri), Greater Reading and Pittsburgh (Pennsylvania), Seattle (Washington), Brookings (South Dakota), St. Louis (Missouri), Cincinnati (Ohio), Raleigh and Greenville (North Carolina), New Hampshire, Hawaii, Riverside and Orange County (California), Santa Fe (New Mexico), Washington, DC and the Birmingham International Center in Alabama.

A total of 486 teachers attended these workshops in 2010. The estimated impact of the workshop program on the number of students nationwide is 40,000 in 2010 alone. Since 2007, over 1900 American teachers have participated in the Teacher Workshops on Turkey program.

In the second leg of the program, TCF organized and hosted three Teacher Study Tours to Turkey in the summer of 2010 for 76 teachers selected by the participating councils. Since 2007, TCF has taken 291 teachers to Turkey on the TCF Teacher Study Tours.

The final tier of the TCF Educational Program with the World Affairs community features public educational programs entitled Portrait of Turkey, designed and organized by the participating councils with help from the teachers who return from Turkey and funded by grants from TCF. The programs organized in 2010 reached hundreds of Americans through cultural events ranging from book club readings, student art projects to festivals.


"The partnership between the World Affairs Councils of America (WACA) and the Turkish Cultural Foundation has transformed the Montana World Affairs Council's Global Education Initiatives. As one of the Montana World Affairs Council's most successful education programs in our history, this partnership has opened the eyes of educators to Turkey's rich history, culture, and heritage, attracting teachers to the fall workshop from more than 500 miles away. Each program, workshop, study-tour, and follow up event plants seeds of interest, awareness and understanding that will only continue to develop with time. Without a doubt, this opportunity is a model partnership for the Council system, creating a lasting impact in classrooms and communities around the state of Montana and across the WACA Council network."
Aubrie Lyons, Executive Director, Montana World Affairs Council

"The amazing, creative, and life-changing 3-part project, Travel to Turkey and Portrait of Turkey envisioned by the Turkish Cultural Foundation was made available to eager audiences all across the United States through the efficient World Affairs Councils of America (WACA) network. The South Dakota World Affairs Council was thrilled to be invited to apply, and the rest is history. Using WACA as an intermediary to facilitate applications and monitor the program details has enabled TCF and Councils across the country to engage in this exemplary program even though we all have limited staffs. Thank you."
Harriet Swedlund, Executive Director, South Dakota World Affairs Council

"The World Affairs Councils of America (WACA) is extremely proud to partner with the Turkish Cultural Foundation for a fifth year of programming within our national network. It is easy to understand why Spotlight on Turkey is one of our most popular programs - through the exciting lens of Turkish culture our member organizations have been able to reach out to their local communities to build long-lasting educational relationships with educators and the general public. This successful program serves as an ideal model for future WACA partnerships."
Dr. Lori Esposito Murray, Interim President and CEO, World Affairs Councils of America



Birmingham International Center

The Turkish Cultural Foundation has awarded a major grant to support the Spotlight on Turkey year-long program in 2010-2011 by the Birmingham International Center (BIC).
The TCF grant will support the BIC educational programs that will take place through the Turkey Spotlight year and in particular support the Arts in Education program of BIC. The Arts in Education program will provide resources to Alabama schools to incorporate Turkish art and culture i the school curricula. In addition, TCF integrated the BIC into the TCF educational program with the World Affairs Councils of America, providing additional funding to organize a Teacher Workshop and public cultural programs on Turkey and send four Alabama teachers on the 2010 TCF Teacher Study Tour.

Turkish American Media

Turkish Cultural Foundation continued to support Turkish American community-based media with the goal to increase communication in the Turkish American community and promote Turkey to the general public. TCF provided a grant to underwrite programming by Turkish American Hour (broadcast in English and Turkish) on Fairfax (Virginia) Public Access Television. TCF also provided a grant to Turkish Radio Hour and broadcast on San Francisco community radio. Both public programming is produced by volunteer Turkish American production teams and staff and feature information on Turkey, Turkish culture and art, business and scientific interests. Programs are also streamed online. TCF also continued to support Bonbon, the only bilingual Turkish American children's magazine, published in Washington, DC.

TCF in the Media

Many programs undertaken by TCF in 2010 received wide media coverage. TCF received over 150 mentions in mainstream media outlets in the last year, especially in the Turkish media. Coverage on TCF programs were featured in leading Turkish daily newspapers, including Hurriyet, Milliyet, Radikal, Vatan, Sabah, Star, Posta, Haberturk, Cumhuriyet, Turkish Daily News, Today's Zaman and on Turkish TV channels CNNTurk, NTV and TRT. A selection of media coverage on TCF programs can seen on the Turkish Cultural Foundation website.

Turkish Culture on the Worldwide Web

Turkish Cultural Foundation continues to expand and improve its award-winning websites. Our efforts to promote Turkish culture worldwide continued with enriching the content of the TCF portals on Turkish culture, music and cuisine. The TCF portals received over 1.7 million visitors from 204 countries and territories in 2010.


Turkish Culture Portal
www.turkishculture.org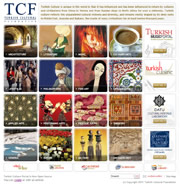 The Turkish Culture Portal highlights some of the distinct characteristics and qualities of Turkish culture and its contributions to human work and thought. The website is intended as a casual and entertaining walk through topics related to Turkey's rich culture. Its content will always be a work in progress, given the depth and the multiple dimensions of the subject.


Turkish Music Portal
www.turkishmusicportal.org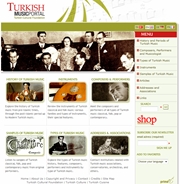 The Turkish Music Portal is the first public educational website dedicated to Turkish music and was inaugurated in January 2006. The Turkish Music Portal explores the history, reviews the instruments of Turkish classical and folk music, and introduces the composers and performers of all types of Turkish music. It is available in Turkish, English, French and German.




Turkish Cuisine Portal
www.turkish-cuisine.org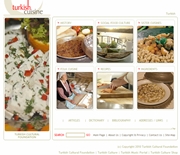 Inaugurated in 2007 and available in English and Turkish, the Turkish Cuisine Portal is a rich resource featuring the many different aspects of Turkey's diverse culinary culture, including history, sociology, beliefs, ingredients, techniques and recipes.




TCF DATU Portal
www.tcfdatu.org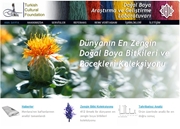 In 2010, TCF also established a portal for the TCF Natural Dyes Research and Development Laboratory – DATU. The DATU portal, in addition to providing information on the institutional work of this new organization, makes a wealth of scientific knowledge on natural dyes available to the public. The portal also features an expansive database and images of plants, insects and other material used in the generation of natural dyes.




Turkish Culture Shop
www.turkishcultureshop.org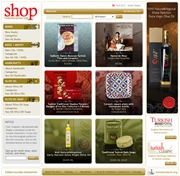 In 2010, TCF continued to expand Turkish Culture Shop, an initiative to promote Turkey's diverse cultural and artistic products and a sampling of Turkish food items. Turkish Culture Shop helps to promote and support artists and manufacturers of fine Turkish products, while providing interested buyers access to products which comply with the high standards of Turkish Cultural Foundation. All profits benefit the work of the Foundation.



Who's Who in Turkish Art and Culture



Work continued on the "Who's Who" online database featuring living Turkish artists, artisans and experts with their biographies and contact information. along with selected images of their art. The goal of the project is to promote Turkish artists worldwide, while making it easy for people of common cultural interests to find each other and collaborate on projects that celebrate Turkish cultural heritage.


The database is organized under various categories such as Visual Arts, Turkish Traditional Arts, Applied Arts, Literature, Music, Theater, Movie, Documentary and TV, Dance and Ballet, Academics, Fashion Design and Conservation. Accessible from our Turkish Culture Portal, the database reached 50 categories and more than 1,650 artist entries by the end of 2010.

Separately, a TCF grant to a web portal in Poland supported the creation of online Polish-language content on Turkish culture and to promote Turkey as a travel destination to Polish-speakers.




4. PEOPLE TO PEOPLE CULTURAL EXCHANGES

TCF Cultural Tours

Since its first cultural tour in 2006, Turkish Cultural Foundation has hosted

163 influential Americans on seven cultural tours

to Turkey. The purpose of TCF cultural tours is to introduce Turkey to Americans from different segments society with a view to

build people-to-people cultural bridges between Turkey and the United States

. TCF organized

two cultural tours in 2010

, immersing the participants into Turkey's art, music, culinary heritage, architecture, cultural diversity, history and natural beauty.

The sixth TCF Cultural Tour took place in May of 2010. This was the first specialized cultural tour, which brought

20 academic leaders from US educational institutions

across the country, consisting of university presidents, provosts, deans, directors and faculty members, on a 10-day tour to Turkey.

The tour program enhanced participants' understanding about Turkish education, society and culture, as they explored collaborative programs between Turkish and American universities. In particular, the tour's goal was to introduce Turkey as a study tour/study abroad destination to American universities, increase academic exchanges, cultural and social interactions between Turkish and American universities, as well as spur interest in academic programs on Turkey at American educational institutions.

The Turkish Cultural Foundation's seventh Cultural Tour was held in September of 2010. 30 influential American guests from different walks of life, ranging from museum directors, academia, art, politics, civil society to the media, were taken on a cultural journey through Turkey for seventeen days. This tour visited Istanbul, Edirne, Canakkale, Gelibolu (Gallipoli), Truva (Troy), Bursa, Iznik, Beypazari, Ankara, Amasya, Tokat, Sivas, Kayseri, Cappadocia and Konya, providing participants with an in-depth exposure to the history, art, culture, architecture, food and music, as well as the people of Turkey.

"We have traveled a good deal over the years, but we have never—we repeat, NEVER—participated in an educationally richer or more meticulously organized overseas experience than the TCF Cultural Tour. From Istanbul to Bursa, Beypazari to Ankara and Sivas to Cappadocia; from the ruins of Troy to the majesty of the Seljuk and Ottoman empires to the remarkable modern Turkish republic—we were continuously immersed in and enchanted by the magnificent diversity of history, art, architecture, religion, and cuisine of Turkey. The highly informed, creative and engaging individuals in our cadre only enhanced the efficacy and impact of the experience. Please be assured that we will continue to be ardent supporters of the vision, mission and values of the Turkish Cultural Foundation. This journey has had a profound impact on the way we view international affairs, in general, and, more specifically, Turkey's steadily expanding economic and political importance not only in the Middle East, but across the globe. We deeply appreciate the opportunity to have shared this incredible journey with you."
Dr. Kirk Heinze, Radio Host, News/Talk 760 WJR. Lansing Michigan

"I found the trip to very educational and enlightening regarding the country of Turkey. The experience gave me a totally different perspective of Turkey with regard to its history, culture and educational system. I also appreciated the opportunity to get connected with Turkish universities and other universities within the United States. The tour was a total success for me. I am telling the Turkish story wherever I go."
Dr. Henry N. Tisdale, President, Claflin University, Orangeburg, SC.

TCF Teacher Study Tours
In its fourth year, as part of its partnership program with the
World Affairs Councils of America
, Turkish Cultural Foundation organized and sponsored
three Teachers Study Tours
in the summer of 2010 and introduced
76 educators from 20 US regions
to Turkey.
The tours' 13-day intensive itinerary highlighted Turkish society, culture, history and education and included visits to public and private schools, meetings with representatives of Turkish civil society, as well as cultural performances. In total, the Turkish Cultural Foundation's Teacher Study Tours has thus far introduced
291 American teachers
to Turkey.

"My Turkish Study Tour experience is one I will remember and cherish forever. It was an incredible journey into the ancient past and a delightful glimpse at modern day Turkey. What a fascinating country. It opened my eyes to the complexities and beauties of Turkey's people. What a wonderful opportunity for teachers. It was an honor to share an enchanting two weeks with fellow educators from around the country."
Kennan Girdner, Santa Fe, New Mexico
"The TCF Teacher Study Tour experience will influence my interaction with students as I guide them to plan for their future and expose them to the possibilities of experiences outside the United States. The first hand knowledge of Turkish culture that I have gained from this experience will influence my interactions with students in profound and unexpected ways for years to come."
Melissa Goo, Honolulu, Hawaii

Study Tours and International Events
Turkish Cultural Foundation continued to provide grants to American schools and universities for faculty-led study tours to Turkey. In 2010,
Arizona State University, Woodbury College
and
Haverford and Bryn Mawr Colleges
organized study tours to Turkey with support from TCF study tour grants and were provided TCF assistance in developing their Turkey itineraries. The study tour by Haverford and Bryn Mawr Colleges included a series of concerts by their unique student choir who performed Turkish classical music songs with Turkish students. The TCF Istanbul office hosted the visiting students for lectures and other special events.
The TCF Istanbul office also provided special programs and expertise to a variety of professional and educational groups visiting Turkey throughout 2010, including a delegation from
Contemporary Istanbul
, patrons of the
Boston Museum of Fine Arts
,
George Washington University
and numerous visiting U.S. educational and congressional delegations organized by the
Turkish Coalition of America
.
5. CULTURAL PRESERVATION/DOCUMENTATION
Spearheading and supporting projects to preserve the cultural heritage of Turkey is one of the pillars of Turkish Cultural Foundation. Several of these multi-year comprehensive projects came to fruition in 2010.
Natural Dyes Research and Development Laboratory – DATU
After several years of preliminary, TCF inaugurated the
Natural Dyes Research and Development Laboratory – DATU
in Istanbul. DATU has quickly established itself as one of the world's most advanced laboratories on natural dyes and has made significant contributions to cultural preservation and documentation. DATU is also supported by
ARMAGGAN
, a design and manufacturing brand that produces limited edition hand-crafted objects with modern designs inspired by Anatolia. The mission of DATU is to help preserve and promote Turkey's textile heritage by creating a scientific inventory of natural dyes which have been used for centuries to color Turkish textiles. DATU will also contribute to the redevelopment of the natural dye production process, as well as spreading the use of natural dyes in contemporary textile production. Since its establishment, DATU has provided free analytical services to leading museums in Turkey and in Azerbaijan, including the
Topkapi Palace Museum
,
Hagia Sophia Museum
,
Museum of Turkish and Islamic Art
,
Harbiye Military Museum
,
Konya Ethnographical Museum
,
Konya Mevlana Museum
and the
National History Museum of Azerbaijan
.

"It is rare in the world of Islamic art and carpet and textiles studies that serious attention has been paid to color in all its many contexts. This is a strange occurrence since it is, of course, through the use of color that artists and craftsmen are best able to convey their artistic message. Happily the study of color across many centuries of Turkish art is now a reality thanks to the thorough and clinical work of DATU. The center has created a database, available free to any one who is interested, that lists the findings of their analyses of the dyes used across the field of Turkish arts and in all relevant mediums acquired from samples taken from objects in private and public collections. This service is provided free of charge to Turkish museums. DATU has also assembled from around the world, the largest collection of natural dyes in their natural/plant form in the world as well as a chemical analysis of each and a sample of the dye in its concentrated pigment form: an unprecedented resource for researchers, dyers and manufacturers alike. This resource has untold value for the study of Turkish carpet and textile art. Indeed I would expect that further studies ensuing from the work of the laboratory will reveal to carpet and textiles scholars new insights into understanding aspects of this tradition and establish a new field of analytical research into what we know about when and where carpets were made in Anatolia from the 13th century onwards."
Ben Evans, Editor, HALI Publications Ltd.

"We are grateful for the support of the TCF's Natural Dyes Research and Development laboratory for the pro-bono services they provided to our museum in the form of analyses of various historical artifacts in our collection. These analyses will be vitally helpful in our efforts toward identification, restoration and conservation of historical artifacts in our museum. The assistance provided by DATU in the analysis of the many fabric samples in the Azerbaijan National History Museum has allowed us to obtain information necessary to the research of both archaeological and ethnographic artifacts, and has been greatly helpful in the analysis, preservation, conservation and restoration of the fabrics and carpets in our museum. Furthermore, DATU provided analytical services to the archeological expedition in the 18th century city of Aksu. The analysis on the earth and vessels from this excavation helped to confirm that this city held a very important place in the trade of dye plants. Our Museum and the Aksu Archeological Expedition are grateful to Prof. Dr. Recep Karadag for his contributions to our work and express our appreciation for the great contribution of the Turkish Cultural Foundation toward the research of Turkish civilization."
Dr. Fariz Halilli, Branch Director, Azerbaijan National History Museum

Cultural Preservation/Documentation Grants
Image Archive of Turkish Art

In 2010, the Turkish Cultural Foundation launched the Image Archive of Turkish Art. The result of a new 2-year project undertaken by TCF, the
Image Archive of Turkish Art
is a digitalized slide repository, created from the professional image collection of
Prof. Dr. Nurhan Atasoy
, Art Historian and Senior Resident Scholar at the Turkish Cultural Foundation.
The Image Archive was introduced to the public with a press briefing at the TCF Istanbul office and received wide coverage in the Turkish press, including interviews with Dr. Atasoy on leading Turkish TV channels. A special program on
NTV
featured an extensive interview with Dr. Atasoy about the Image Archive.
The Archive contains over 12,000 images taken during Dr. Atasoy's extensive domestic and international travels, including research trips taken at museums, exhibitions and other locations of note dating back to 1955.
Beyond a collection of images, the Archive is, therefore, also a historical record of numerous works of art the launching of the Image Archive was widely covered in the Turkish electronic and printed media. It is searchable in English and Turkish by subject (country, city, library, museum, collection or material).
The Turkish Cultural Foundation aims to expand the Image Archive by adding the collections of other leading scholars over time. The Image Archive of Turkish Art is accessible, for free, from the
Turkish Culture Portal
.
Iron Age Settlements Inventory
The Turkish Cultural Foundation's multi-year grant to the
Archeological Settlements in Turkey Project
(Turkiye Arkeolojik Yerlesimleri - TAY Projesi), a Turkish non-governmental organization resulted in the creation of the Iron Age Settlements Inventory of Turkey. The Inventory was made available online in 2010 and consists of a comprehensive databank of 2363 Iron Age settlements in Turkey. It is the result of a five-year research project by a 16-member TAY team and was first published in hard-copy format in January 2008. The online version provides the findings in a fully searchable format and makes this wealth of information available to scholars and the public worldwide.


Anatolian Seljuk Monuments Inventory

The Turkish Cultural Foundation's multi-year grant to the
Cultural Awareness Foundation
(Kultur Bilincini Gelistirme Vakfi), a Turkish non-governmental organization, resulted in the creation of the Anatolian Seljuk Monuments Inventory. Sponsored as part of the Turkish Cultural Foundation's Turkish Cultural Heritage Projects, the Anatolian Seljuk Monuments Inventory, currently online in Turkish, is the result of a three-year research project by a team of Turkish art historians, who are Seljuk experts, formed under the Cultural Awareness Foundation. The project is designed to create an inventory of the nearly 1000 monuments dating back to the Seljuk Empire (1040-1157) in Anatolia, including caravanserais, schools, hospitals, baths, mosques, castles, palaces, kiosks, monasteries, tombs and shrines. The project documents their status and provides for a monitoring tool against natural or man-made damages, including physical destruction and faulty restoration.
Catalhoyuk

For the third year, Turkish Cultural Foundation and the Global Heritage Fund partnered to support the
Catalhoyuk Excavation
in Turkey. Since 2008, TCF has provided a total of $ 85,000 in matching funds to the Global Heritage Fund in support of Catalhoyuk. TCF funds have supported the building of a shelter to protect the excavated areas and helped to establish display panels and signage for visitors. TCF grants also provided funding to train conservation students and members of the local community. Led by a joint US-Turkish archeological team, the site's excavation is unearthing one of the world's most significant human civilization sites and is now on the tentative Turkish list for UNESCO World Heritage site designation. If listed, 9,000-year old Catalhoyuk will become the only Neolithic site on the World Heritage list. Since 2008, TCF also made visits to Catalhoyuk a standing feature on the TCF Teacher Study Tours to help enhance education on the importance of Catalhoyuk to human civilization.
"The Catalhoyuk Research Project is very grateful for the grant that was given to the project by the Turkish Cultural Foundation for the 2010 season. The grant was used towards the on-going program of visualization and presentation of the site as well as towards our program of conservation and restoration training of our local workers from Kucukkoy and Cumra. The Teachers' Study Tours of Turkey organized by the Turkish Cultural Foundation have been visiting the site on an annual basis for some years now. It is always a pleasure to welcome them and introduce them to our work for they are a fantastically responsive group with genuine interest. I think that visiting a working archaeological site, and one of such an age as the Neolithic period, is a truly unique experience. For us, we take pride in our work and if some of the teachers on the study tour pass on their experience at Catalhoyuk to their students and friends. We would not be able to focus with the same dedication to the presentation of the site for our visitors if it were not for the Turkish Cultural Foundation and their matching funds. We are committed to presenting the site of Catalhoyuk as a memorable and instructive place to visit and we hope that people leave with a better understanding of what life was like 9000 years ago."
Shahina Farid, Field Director & Project Coordinator, Catalhoyuk Research Project

Uluumay Museum Exhibition

Supported by a grant under the Turkish Cultural Foundation's Turkish Cultural Heritage Preservation and Documentation program, the Uluumay Ottoman Attire and Jewelry Museum in Bursa has created the first collection of religious vestments worn by Greek Orthodox, Armenian Catholic, Assyrian, Jewish and Muslim denominational clergy during the Ottoman Empire. The collection brings to life the tradition of religious tolerance that has existed in Anatolia for centuries under Turkish and Ottoman imperial rule.
Eyup Music Foundation


Just as the Foundation supports new artistic work by living Turkish artists, it also nurtures Turkish musicians in situ. In 2010, Turkish Cultural Foundation continued providing grants to one of the oldest musical societies in Istanbul, the
Eyup Music Foundation
(Eyup Musiki Vakfi). TCF helped the Foundation to expand its facilities, provide music education to children who are unable to pursue a formal music education and to stage an annual concert for its Senior and Junior choirs. Now in its fourth year, the aim of the TCF-sponsored annual concert by Eyup Music Foundation is to sustain interest in Turkish classical music in young generations and the general public.
Turkish Music Dictionary and Field Research on Turkish Folk Music Terminology
The Turkish Cultural Foundation continued its support for a multi-year, multi-disciplinary research and documentation project in the field of
Turkish Music
. The project aims to create an online
Turkish Music Dictionary
and to conduct associated field studies on
Turkish Folk Music Terminology
. It is led by Turkish ethnomusicologist
Dr. Melih Duygulu
, who previously coordinated the
Turkish Music Portal
project by TCF. By supporting this project, TCF aims to contribute to the preservation of Turkey's rich music heritage for the benefit of present and future generations.
Progress continued to be made in the project in 2010, and the Turkish Music Dictionary is anticipated to be made public on the
Turkish Music Portal
in Turkish and English in 2011. This online dictionary, containing a
vocabulary of 2200 Turkish music terms
, will help preserve terminology associated with Turkish music, where oral transmission of information, as well as regional variance among terms is wide-spread. The
Turkish Music Dictionary
will present the current usages of expression, speed, form, modal, rhythm and instruments that are hundreds of years old. Designed as a learning and teaching tool, the Turkish Music Dictionary will appeal to experts and novices of the genre, alike.
In 2010, substantial progress has also been made in the companion
field research
to compile multi-disciplinary data related to the
Turkish Folk Music Terminology
and culture in the cities of Canakkale, Kastamonu, Sivas, Tokat, Edirne, Bursa (Yalova), Denizli, Burdur, Isparta, Istanbul and environs. The research team collected new musical terms, bard chants (asik havalari), lyrics/poetic sayings, henna songs, lullabies, laments, religious/mystical music samples and singing techniques through site visits, observations and interviews of performers and others.
Chuvash Language Dictionary
A grant by the Turkish Cultural Foundation enabled research into and the publication of a book on the
Comparative Grammar of the Chuvash Language
. Published by
Dr. Pavel Zheltov
, a scholar dedicated to the preservation of Chuvash language and culture, the book adopts Turkish as the comparative language for Chuvash, a language considered to be one of the most ancient and conservative Turkic languages. The book is intended primarily for linguists already acquainted with at least one Turkic language and is a valuable contribution to the study of comparative Turkology.
Hali Magazine
A grant from TCF to
Hali
magazine, a UK-based publication, helped bring the rich collections of the newly opened
Vakiflar Museums
(Museums owned by the Turkish Foundations General Directorate) to experts and art connoisseurs worldwide. The grant enabled a Hali team to travel to museums in
Istanbul, Kastamonu, Tokat, Konya, Gaziantep
and
Edirne
to report about the opening of these important regional museums with holdings of many previously unknown or unseen precious carpets, kilims, textiles and other cultural heritage items.